KRWA Receives Award for Outstanding Achievement in Member Services
Date posted
September 20, 2021
September 20, 2021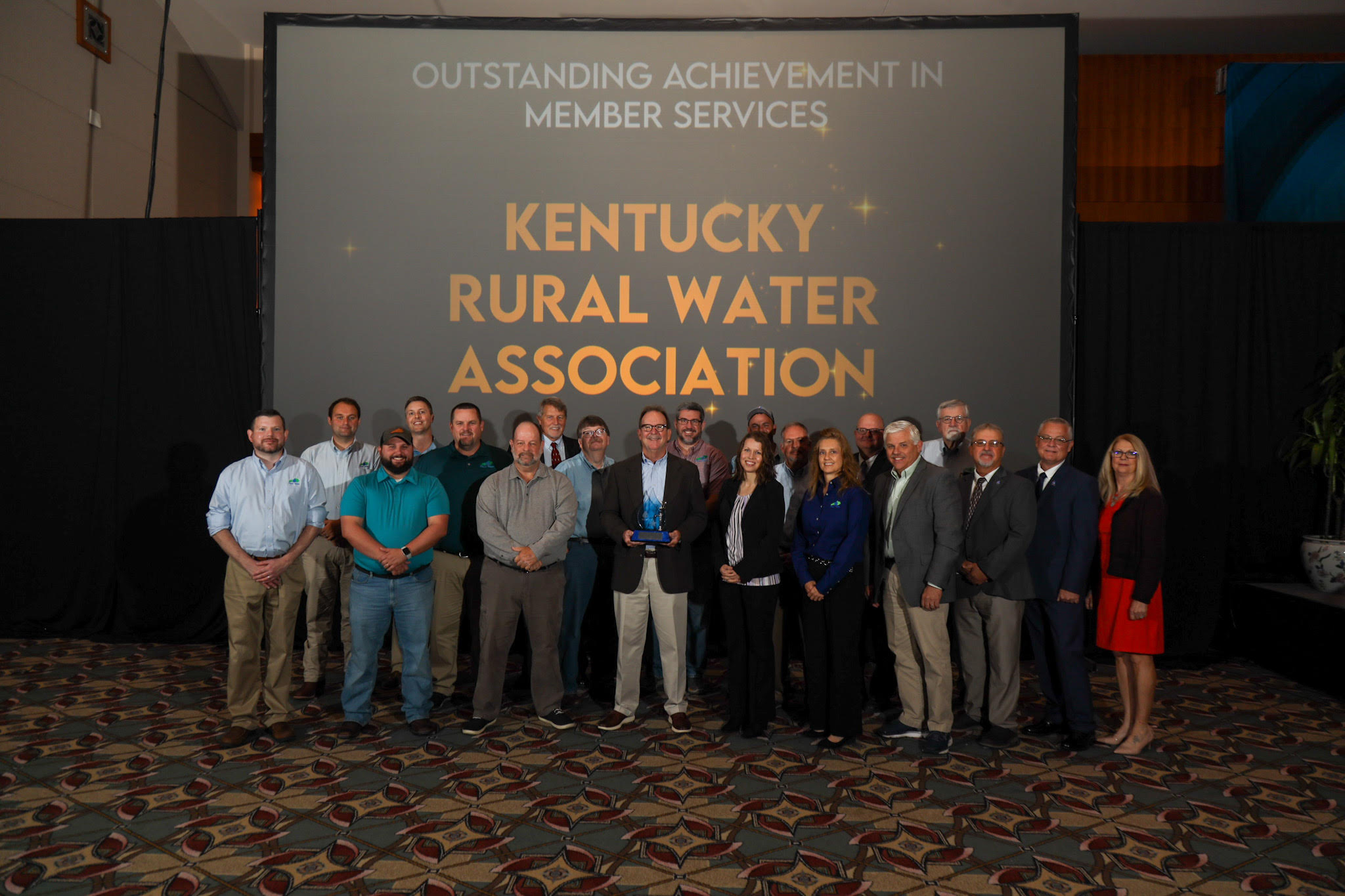 Each year, National Rural Water Association presents affiliate state rural water associations with Awards of Excellence for outstanding service in several categories. These awards are presented during the NRWA WaterPro Conference, which was held last week in Milwaukee, Wisconsin.
Kentucky Rural Water Association was proud to receive the award for Outstanding Member Services for exceptional member services and benefits to our membership. In addition to excellent conferences, certification-based training, onsite technical assistance, and legislative representation, KRWA offers many additional programs and services for the express benefit of our member water and wastewater utilities.
FINANCE CORPORATION
KRWA offers two finance programs to member utilities. The interim finance program offers construction-phase loans in conjunction to USDA-Rural Development-funded projects. Since 1995, we have provided 460 borrowers with $1.055 billion in interim loans. Our flex-term loan program offers an "A+" rating, market-rate interest rates, and terms from 1 to 35 years. Since 2001, we have loaned $515 million to 260 borrowers.
INFORMATION TECHNOLOGY ASSISTANCE
Our Information Technology Assistance program offers participating utilities:
We have developed approximately 27 websites for member utilities. These websites can be basic or customized, depending on the needs and budget of the utility.
PC/Server Hardware Recommendations
Virus and Spyware Removal/Prevention
Data Storage and Backup Procedures
PC Repair/Configuration
Electronic Bill Pay Solutions
DIVISION OF WATER CONTRACT
The DOW contract targets technical assistance and training to participating utilities that are experiencing challenges in complying with the Stage 2 Disinfection By-products Rule. The contract also provides training to utility personnel on management and finance issues.
APPALACHIAN REGIONAL COMMISSION CONTRACT
The ARC contract targets technical assistance and training to participating utilities in the 54-county region. The contract also provides loan servicing on KY Infrastructure Authority borrowers and rate and cost of service studies.
COMPLIANCE CHECK PROGRAM
The Compliance Check Program provides an enhanced level of assistance to utilities with regulatory issues, development of compliance plans, assistance with water quality results, promotes proper recordkeeping practices and accurate submittals of compliance reports. Over $7 million in water and wastewater system savings has been realized by the 175 participating utilities!
RECORDKEEPING PACKAGE
The recordkeeping package was developed by our association to assist utilities with compliance data and in preparation of Consumer Confidence Reports (CCR).
CCR HOSTING
Following the approval to deliver Consumer Confidence Reports electronically, KRWA can host any member's electronic CCR, providing the link and language required to be printed on the utility bill. Over 250 CCRs are being hosted this year.
COMPENSATION AND BENEFIT SURVEY
A compensation and benefits survey of our membership is conducted every two years to assist utilities. We provide a summary of the survey results to all participating utilities.