Water & Wastewater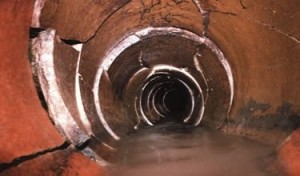 KRWA Water and Wastewater Services utilize cutting-edge technology to provide practical infrastructure management solutions designed specifically to meet the needs of small and rural communities in Kentucky. By using available technology, KRWA technicians collect and analyze both water and wastewater features and defects more efficiently and in ways that lead to better solutions for repair and maintenance of these systems.
With the use of Geographic Information Systems (GIS), the Global Positioning System (GPS), and other digital documentation devices we can detect, evaluate, and document a variety of data and information critical to the efficient management of water and wastewater utilities.
Mapping
KRWA collects location data for each water and wastewater feature (meter, valve, hydrant, tank, manhole, etc.) to be identified using sub-foot GPS equipment. In addition, selected attribute information will be gathered while in the field for each feature.
---
Manhole Inspection
KRWA performs manhole inspections in order to accurately inventory the assets of the wastewater collection system, to update collection system maps and to determine the structural condition of each manhole. KRWA technicians take a complete inventory of each manhole including construction materials, ring size, depth to invert, flow conditions and evidence of surcharge.
---
Smoke Testing
Smoke testing is performed to identify areas of inflow/infiltration where unwanted water may be entering the collection system and leading to possible sewer backups. Smoke filled air is forced into sanitary sewer lines and other connections using smoke testing equipment and liquid smoke.
---
Flow Monitoring
KRWA performs flow monitoring to determine the variations between inflow and infiltration so that discrete sections of the collection system can be targeted for repair and/or video inspection. Flow meters are installed in designated manholes and the data is typically retrieved on a weekly basis. After gathering the data, KRWA provides a quantitative analysis of each monitoring site describing the conditions of inflow/ infiltration.
---
Video Inspection
A video camera pipeline inspection allows for real-time visual inspection of new or existing sewer line to determine the condition of the piping. KRWA uses a pan and tilt camera equipped with powerful lights, mounted to a six-wheel drive tractor that can travel through pipes varying from 8" up to 24" in diameter. Video inspections are used to identify pipe damage such as broken, cracked, or collapsed pipe and blockages that create backups.