Customized Training
Let KRWA bring the training to you! We can provide one, two, or even more days of approved continuing education credit training for your utility's water and wastewater operators or water district commissioners in the comfort of your own facilities. No travel expense. No overnight stays. And, you can pick the subject matter that provides exactly the training that your personnel wants and needs!
On-site Training for Drinking Water and Wastewater Utilities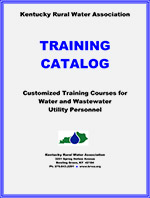 Kentucky Rural Water Association (KRWA) is pleased to offer customized on-site training classes for water and wastewater utility personnel. The Training Catalog is designed to allow utilities to select from a variety of class offerings that will best suit your training requirements. Courses listed in the catalog offer flexibility for meeting the needs of individual utilities. If you don't see a topic or a specific course, please ask. We will work with each utility to deliver quality training classes to your specifications.
Requesting utility provides the location and set up of tables & chairs to accommodate expected attendance.


Training date(s) will be decided (for scheduling purposes, please select more than one date).


Topics can be specific to drinking water, wastewater, or both.


A training course will be developed by KRWA to meet the filing requirements of the appropriate agency for continuing education credit.


Upon completion of the class, KRWA will report hours earned by each attendee to the proper agency.


If a utility chooses, surrounding systems may be invited to join the training. (If mutually agreed, utilities can work out a cost-share. However, the utility making the arrangements for the training session will be responsible for the charges/invoice.)
---
Fee Schedule for On-site Training (Member Rate)
| | | |
| --- | --- | --- |
| Number of Days | Hours of Instruction | Cost |
| One | Six (6) | $2000 |
| Two | Twelve (12) | $3000 |
| Three | Eighteen (18) | $4000 |