Utility Leadership Institute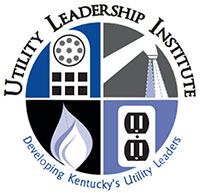 Kentucky's utilities (electric, natural gas, communications and water/ wastewater) all share a common need for best practices, continuous learning and leadership development. Leadership is essential for the success of all utilities, including the development of employees and board members — whether elected or appointed. Our mission is simple: To develop Kentucky's utility leaders!
In addition to our public seminars, we offer on-site leadership training exclusively customized for your utility in both half-day and full-day formats. We also offer one-on-one coaching and are available to facilitate your utility's next strategic planning session. Call us today and discover how we can help take your utility to new heights!
---
Audience
Utility Supervisors, Managers and Executives
Current and Emerging Utility Leaders
Current and Newly Appointed Board Members
Utility Regulators
---
Seminar
The Power of Purpose: Viewing your utility as more than just delivering a service or services
Achieving Peak Communication: The appreciation of differences
Employee Engagement: Commitment versus compliance
High Performance Management and Leadership
Teamwork: Growth and innovation
Leading Change and Performance Excellence
Achieving Extraordinary Customer Service