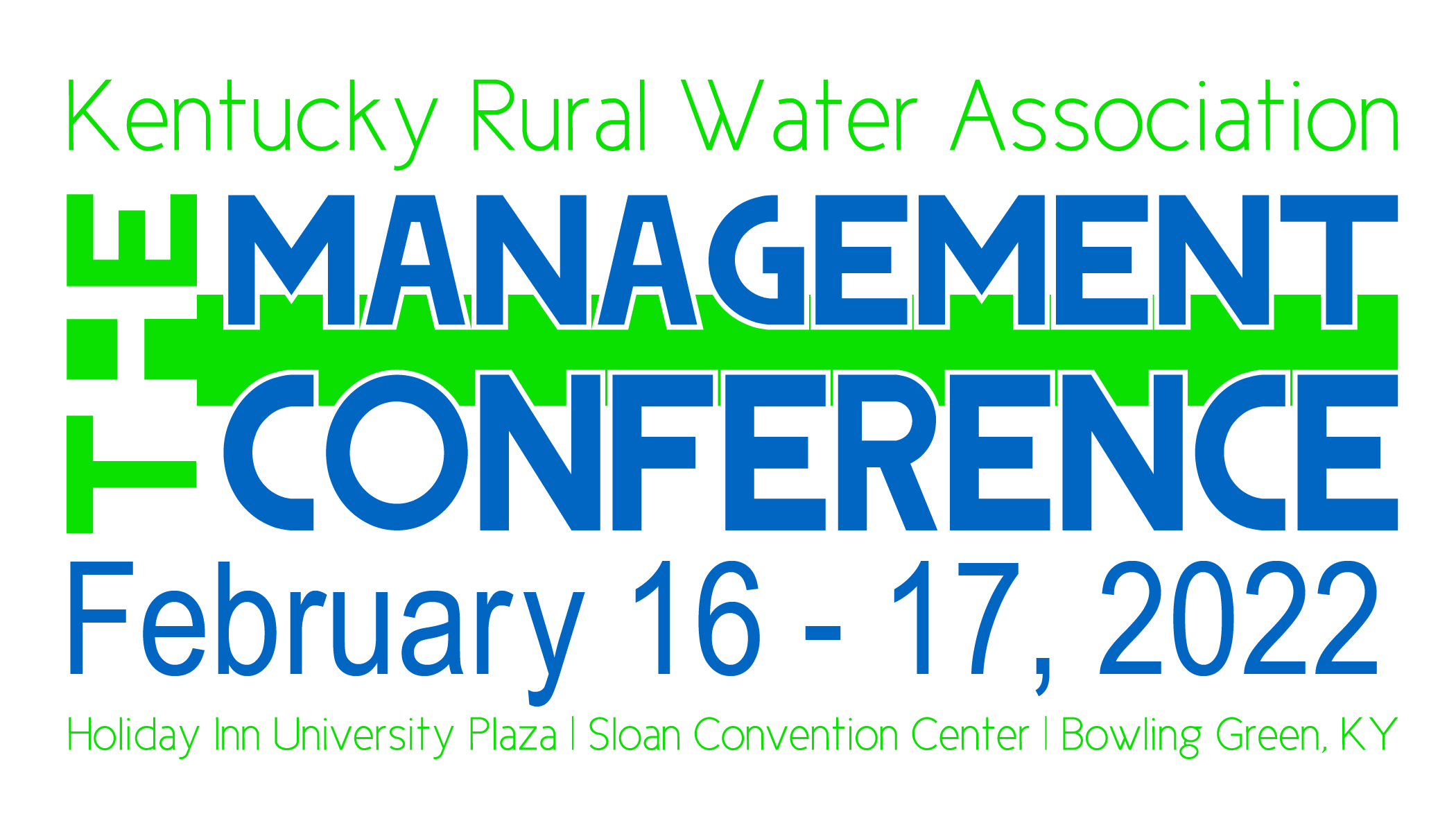 Water and wastewater professionals from across Kentucky will be gathering Wednesday and Thursday, February 16-17, 2022 at the Sloan Convention Center in Bowling Green, Kentucky, for Kentucky Rural Water Association's 2022 Management Conference. 
Attendee Registration  Exhibitor Registration
Highlights include:
Twelve hours of continuing education credit will be offered again this year. Both Wednesday and Thursday will offer 6 hours of training. Details of the sessions will be included on the tentative agenda. All hours are pending approval from the Division of Compliance Assistance, Operator Certification Section and the Public Service Commission..
Our new schedule will allow attendees more time to interact with our Associate Members who will be on hand to exhibit the most current industry trends and specialty products. These Industry professionals will showcase the most up-to-date offerings in supplies, materials and services at the popular table top displays. 
After the exhibit hall opens on Wednesday, lunch will be served to ALL in the exhibit hall. This will allow attendees additional time to take advantage of visiting with the tabletop
exhibitors. Once classes are over for the day, the Member Appreciation Reception will offer time to fellowship as we gather in the exhibit area, Ballrooms A – C, and partake of a tasteful array of hors d'oeuvres. If these appetizers only whet your appetite, there's still time for dinner out on the town. 
A continental breakfast will be available in the exhibit area on Thursday morning before classes resume at 8:00 a.m. in Ballroom D. Thursday's lunch break will be "on your own" with training continuing after the break. 
We hope you will join us February 16-17 for our 2022 Management Conference!
Attendee Registration  Exhibitor Registration
Conference Presentations
Wednesday
8:00 am -  "Embrace the Process" Controlling Your Three-Foot World - (Bob Cashion)
9:15 am -  Ten Rules for Dealing Effectively with the Public Service Commission - (Gerald Wuetcher)
10:30 am - Revisions to KY's Underground Facility Protection Statute - (Patrick Keal)
1:00 pm - Help! Where Did All the Chemicals Go? - (Mike Ricks)
2:15 pm - Disaster Response for Utilities in Kentucky - (Joe Burns)
3:30 pm - Cyber Security is a Team Sport - (Jacob Puckett)
Thursday
8:00 am - Customer Service on a Small Budget - (Robert Mohon)
9:15 am - Water Workforce: Valuing the Product and Those that Provide It - (Heather Stevenson)
10:30 am - Asset Management Dashboards  - (Dustin Horn)
1:00 pm - PFAS and UCMR5 - (Paul Jackson)
2:15 pm - Drinking Water Compliance - (Arianna Lageman)
3:30 pm - Upcoming Changes to NSF Drinking Water Systems - (Steve Roetter)