KRWA Annual Conference and Exhibition Highlights
Date posted
September 2, 2021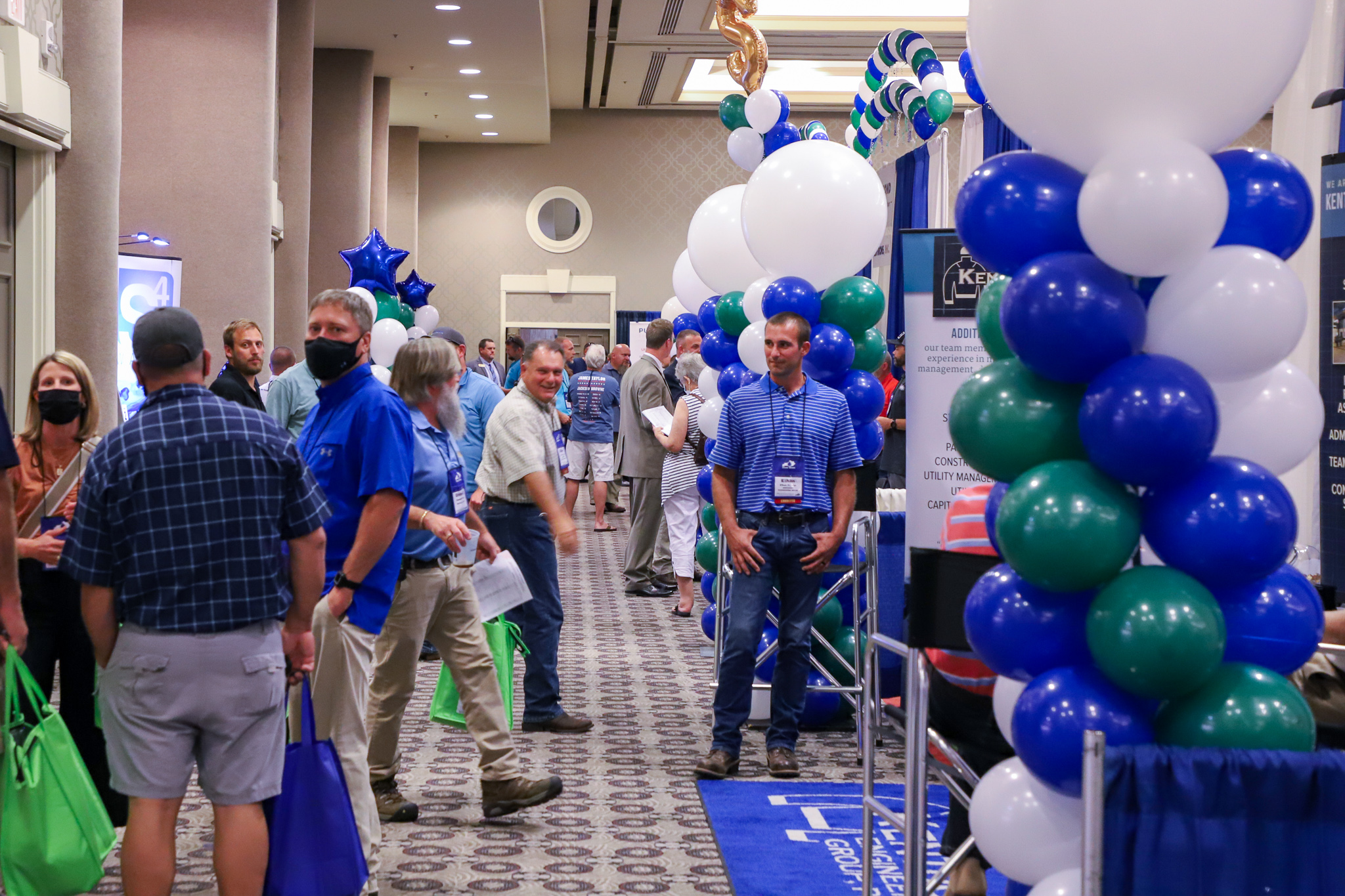 On August 23 through 25, 2021, representatives of Kentucky's public drinking water and wastewater utilities gathered for the Kentucky Rural Water Association's (KRWA) 42nd Annual Conference and Exhibition held in Louisville, Kentucky at the Galt House Hotel & Suites. Approximately 700 utility professionals gained valuable insight from industry experts on "Developing New Normals in an Ever-changing Environment." Attendees enjoyed networking with peers and touring Kentucky's largest exhibition of products and services available to public utilities.
KRWA was excited to be back with an in-person conference. Monday's activities began with the KRWA Golf Tournament at the beautiful Nevel Meade Golf Course in Prospect, Kentucky. A full day of training sessions was offered to water and wastewater personnel, while the Division of Compliance Assistance, Certification and Licensing Branch, once again conducted a Wastewater Collection Certification Class in conjunction with the KRWA conference.
Monday concluded with the opening of our exhibit hall and the President's Reception. Over 100 exhibitors displayed the latest in industry technology, products and services. Congratulations to G & C Supply Company, Inc. as this year's Best Display award recipient!
Tuesday morning's Kick-Off Breakfast recognized ten drinking water and wastewater utilities as Wooden Bucket finalists and honored them for their outstanding service during the past year. Receiving plaques of appreciation from Traci Vaught, Acting State Director, USDA-Rural Development, this year's honorees included: Cadiz Water & Sewer System, Cannonsburg Water District, City of Cynthiana, Grayson Utilities Commission, Green River Valley Water District, Hardin County Water District #1, City of Harrodsburg, McCreary County Water District, City of Mt. Vernon, and Todd County Water District.
KRWA recognized Kentucky State Representative Josh Bray with a "Friend of Rural Water" award for his commitment, leadership, and dedication to rural Kentucky. This award is presented to someone who is a true friend and partner with water and wastewater utilities in Kentucky. Representative Bray was the primary sponsor of KRWA supported HB272, and was instrumental in its passage during the 2021 session of the Kentucky General Assembly.
KRWA's Annual Business Meeting was held following the breakfast. John Dix, Butler, Simpson & Warren Co. Systems, and Christina O'Bryan, Daviess Co. Water District were re-elected to the KRWA Board of Directors. The following board members will serve as officers in 2021/2022:
President Russ Rose, Oldham Co. Water District
Vice President Roger Colburn, North Marshall Water District
Secretary Christina O'Bryan, Daviess Co. Water District
Treasurer David Peterson, Caveland Environmental Authority
The Member Appreciation Reception, WaterPac Raffle, and Best Tasting Water Contest concluded the day's activities. A panel of four judges from various sectors of the water and wastewater industry included: Daniel Brown, United Systems & Software; Emily Miesner, Layne – A Granite Company; Sandra Dunahoo, Nesbitt Engineering, Inc.; and Chip Wilkins, Lawton Insurance. The judges found Lewisport Municipal Water Works as the most appealing water sample, second place was awarded to Paintsville City Utilities, with third place going to Williamsburg Municipal Utilities.
$5,000 was raised for WaterPac during this year's conference! WaterPac is a separate, segregated fund established by the National Rural Water Association that enables individuals to collectively support candidates for Congress who share our interests in the success of water and wastewater utilities. This joint effort provides a stronger voice for association concerns.
Five members of the KRWA staff were recognized for their dedication and service to Kentucky Rural Water Association. Those recognized for reaching a milestone period of service included Arianna Lageman for five years; Randall Kelley for fifteen years; Janet Cole for twenty years; Andy Lange, KRWA Assistant Director, for thirty-three years and Donna Meador for thirty-five years.
Wednesday morning began with the General Session featuring John Dix, Butler, Simpson & Warren Co. Systems and David Peterson, Caveland Environmental Authority discussing the many changes that have emerged for utilities from the Covid-19 pandemic that may now become new normals. KRWA President John Dix, also introduced Scott Young, General Manager, Glasgow Water Company, as the next Executive Director of KRWA, effective no later than July 1, 2022. Rebecca Goodman, Secretary, Energy and Environment Cabinet followed covering issues faced by the Energy and Environment Cabinet following the pandemic and how they are managing these "new normals." Linda Birdwell, Executive Director, Kentucky Public Service Commission continued with PSC Utility Regulatory Issues-Update; and Dennis Keene, Commissioner, Department for Local Government discussed Local Government Issues-Update. Sandy Williams, Deputy Executive Director, Kentucky Infrastructure Authority, finished the morning with Funding Opportunities with Kentucky Infrastructure.
The 42nd KRWA Conference concluded with the annual Awards Luncheon and the popular door prize drawings! The luncheon featured the Wooden Bucket Award presentation with the 2021 award presented to Cadiz Water & Sewer System for their substantial and lasting improvements in providing high levels of customer service and high-quality drinking water to their community. Kerry Fowler, former Public Works Director stated, "What an honor it is to be named winner of the Wooden Bucket award. For years we all have talked about what it takes to win and how it would be a huge honor for us to be a winner. I was very surprised when our name was called. Many changes have occurred over the last couple of years, but the one thing that hasn't changed is a great group of employees who are dedicated and deserve this award." Congratulations to Cadiz Water & Sewer System for this outstanding achievement!
KRWA wishes to give special thanks to all our partners and sponsors who made this year's event such a great success!
Mark Your Calendars! Next year's conference will be held at the Hyatt Regency Hotel and Central Bank Center in Lexington, Kentucky, August 29-31, 2022!